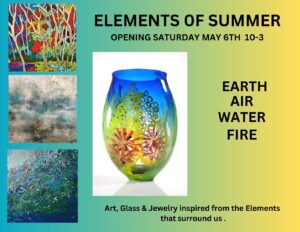 Syd Entel Galleries and Susan Benjamin Glass at 247 Main Street in Safety Harbor presents the Elements of Summer, an exciting group show featuring the works of different artists in art, glass and jewelry. Each artist with a distinctive style and all takes inspiration from the "Elements" surrounding them. Opening Saturday May 6th 10- 3 p.m.
Earth: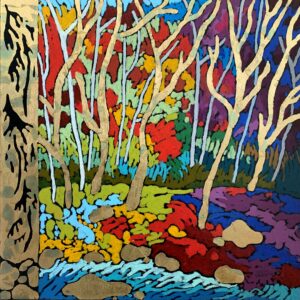 Brett Varney has had a career in art for over 33 years. Working in oil pastels and with gold leaf his inspiration comes from the deep colors and majestic inspiring landscape of British Columbia where he lives.
Air: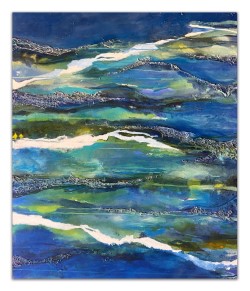 Star Mortezavi is fascinated by the blending of colors; the fluidity and visual pleasure that comes with observing the organic and natural flowing patterns. Her large paintings swirl with motion and layers of texture rise from the canvas.
Also, on display you'll find Alexys Henry's abstract acrylics paintings are a palette of soft colors with hints of shimmer in silver and gold. The cloud-like imagery gives a feeling of calm and tranquility.
Water:
Margaret Juul's compositions are fresh and original expressions of the colors and patterns of water in motion. Captured in visual art as an unwavering hold on her spirit — with fluidity, intuition and reflective volatility.
Lisa Schuster oil paintings are uniquely different. She creates on a metal working different tools she roughens the surface to create a unique shimmering texture. Her Water and Wave Series is full of reflection and movement.
Fire: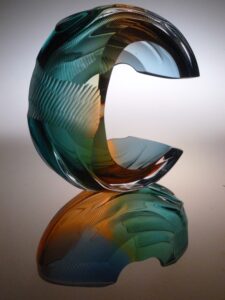 Leon Applebaum has been working in glass for the past 35 years. He has developed glass blowing techniques that captivate the fluid energy of hot glass, using fire, air centrifugal force, gravity, and tools to push and pull the glass. He uses transparent colors, so the light passes through and brings out the pure beauty and essence of glass.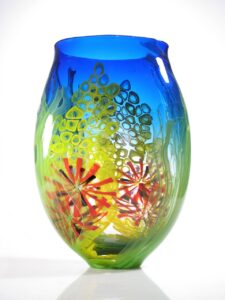 David Leppla's Undersea Vessel Series explores the flowing and ebbing motion of ethereal fronds of sea grass swaying under the sea. The artist incorporates in his glass blowing a variety of glass cane and millefiori to create these rich transparent layered compositions.