henrietta-jill
Jill Henrietta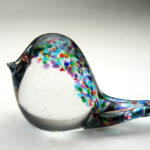 Born and raised just outside Boston, Massachusetts, Jill Henrietta Davis began her career in glass at the New
York Experimental Glass Workshop while studying at the Parsons School of Design. Upon completion of her BFA in 1991 she became the first Parsons student to earn a degree with a specialization in glass.
Jill's love affair with glass has always focused on the material's remarkable combination of beauty and functionality. In 1992 the Robert Lehman Gallery at UrbanGlass offered Jill her first solo exhibition, Jill Henrietta Davis: New Furniture, which featured functional art furniture made from glass and wood. Relocating to Seattle, Jill spent five years on the West Coast, during which time she had four solo shows, participated in many group exhibitions, and was active with the Pilchuck Glass School and the Pratt Fine Arts Center, where she was awarded the Jon and Mary Shirley Glass Scholarship for Emerging Artists.
In 1997 Jill returned to the East Coast to attend the Rhode Island School of Design where she earned an MFA in glass in 1999. Upon her graduation from RISD, the division of Graduate Studies awarded Jill a Materials Grant to help further her work with glass furniture.
In 2003, after 15 years of making one-of-a-kind artworks in glass, Jill undertook a new challenge by founding Henrietta Glass, a limited production studio. Born from the idea that it is even harder to design a really great piece of glass that can be readily reproduced than a really great one-of, Henrietta Glass strives to bring excellent design and craftsmanship to audiences outside the limited world of fine art galleries. With smart design, contemporary colors and a sense of humor, Henrietta Glass seeks to add art to the home, office or gift giving. All Henrietta Glass items are the unique designs of Jill Henrietta Davis, and are handmade at her studio in Providence, RI.
Finding the right balance in dividing her time between her personal art work and her work for Henrietta Glass is definitely a challenge, but Jill has found that the two endeavors truly compliment each other and considers herself tremendously lucky to be making a living doing the things she loves.