Welcome Helen Zarin:  Bursting with Color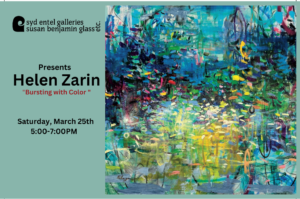 Syd Entel Galleries and Susan Benjamin Glass at 247 Main Street in Safety Harbor presents the artwork of internationally known artist Helen Zarin.  Opening Reception Saturday March 25th, 2023  Show runs through April 22
Helen Zarin's creative journey has progressed for over 30 years.  Her work with mixed media, oil and collage is sophisticated yet vibrant and playful. Her subject matter incredibly diverse includes figures, faces, landscapes and flowers. Ever evolving her new Vision Series shows off an impressionistic abstract style bursting with colors. This new incredible collection of works is a show not to be missed!
Born in Shirae, Iran in 1970, Helen Zarin can remember beginning to paint at the early age of five.  Showing talent, her influential family encouraged her to invest in her artistic endeavors. Helen was recognized by the Iranian Society and earned many national awards for her works. Conditions in her native country eventually compelled Helen to turn elsewhere for creative nourishment.
Helen continued her education here in the United States and her career as a professional artist has flourished. She is represented in galleries throughout, Canada and the USA.