Old Florida meets New Florida
Sally C. Evans and Tom Sadler have dedicated their lives to painting.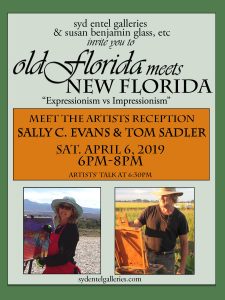 Tom paints in oils using soft edges and lots of layering of glazes, like the Classic Old Master's works.  This is a stark contrast to Sally's contemporary style acrylic paintings which are bright in color with bold, strong lines.
Both artists are drawn to the never-ending source of inspiration, Florida's beautiful landscapes, waterways and foliage. For the past 10 years, they have been devoted to each other in marriage.  They stand side by side in life as well as art.
Join us Saturday, April 6, 2019 6:00 PM – 8:00 PM
[FinalTilesGallery id='2′]