Moshe Bursuker
Moshe Bursuker Glass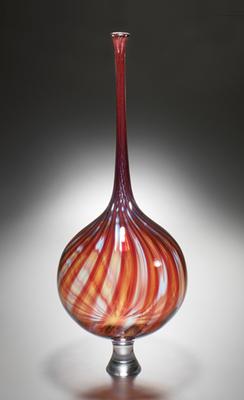 Moshe Bursuker received his BFA degree in sculpture and photography from the Hartford Art School at the University of Hartford. It was there when he first began working with glass. After leaving Hartford, Moshe continued to pursue his artistic endeavors as a glass artist. He attended Urban Glass, Pilchuck Glass School and the Studio at the Corning Museum of Glass, where he has worked with world's renowned glass artists.
Moshe's artwork has been presented at numerous art shows, including the 2005 SOFA Exposition in Chicago, the 2005 and 2006 Baltimore Wholesale Markets of the American Craft Council, the 2006 Buyers Market of American Craft in Philadelphia and the 2004, 2005 and 2006 Annual Glassblowers
Balls in New York.
Moshe is the recipient of the 2005 Metropolitan Contemporary Glass Group Fellowship Award.